Wed, 08 August 2018 at 5:18 pm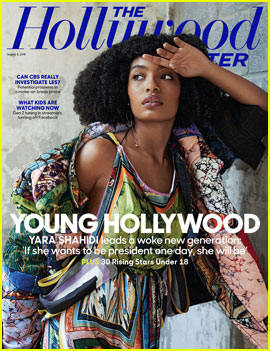 Yara Shahidi strikes a pose on the cover of The Hollywood Reporter's latest issue, available now.
The 18-year-old actress opened up about her education, being politically active and grown-ish. Check it:
On why people were surprised when she was so politically "woke" as a young teen on Black-ish: "The thing people don't fully understand about my generation is just how multifaceted we are. Oftentimes, people like to oversimplify what [we] believe in or do, whether that's, 'Oh, you're on your phones all the time,' or, 'Oh, you're very self-centered,' but what I've seen from my peers is that we're socially engaged and curious about the world."
On why she founded Eighteen x 18: "My passion really stemmed from having gone through the 2016 election, where myself and many of my peers were unable to vote. A lot of them went with their parents to the polls, but there was that feeling of being lost. Like, 'What can we do to contribute to our sociopolitical landscape?'"
On her rigorous academic curriculum: "I'm that annoying person in class where if we were reading a book, I'd not only read that book, I'd read one similar, written in the same era, to find the commonalities. So, if we were reading about the French Revolution in AP Euro, I'd be like, 'OK, let me read Candide and Voltaire's [other works].'
On her initial hesitation to star in grown-ish: "I've always had so many other interests and I knew being in almost every scene of a show that could go multiple seasons would require a level of investment that I've never needed to make before."
For more from Yara, visit THR.com.
Like Just Jared Jr. on FB