Fri, 10 August 2018 at 5:17 pm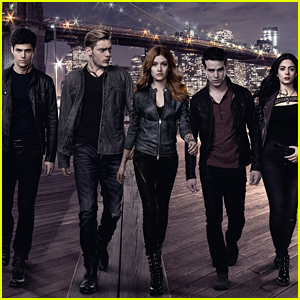 The cast of Shadowhunters is truly impressed with the #SaveShadowhunters campaign, which kicked off the moment the series was announced as cancelled.
Stars Katherine McNamara, Matthew Daddario, Alberto Rosende, Emeraude Toubia, Dominic Sherwood, Harry Shum, Jr., and more opened to TVGuide about the campaign and how they are really impressed with what the fans have been doing in the name of the series.
"The coolest thing for me is seeing this group of people who are internationally connected that are pushing for things they want to see, trying to educate the world, trying to change their environment in a positive way," Alberto, who plays Simon, shared. "You see that with their donation to the Trevor Project and everything that they've been able to do."
He adds, "As much as I love that there's a focus around #SaveShadowhunters, the true power isn't in just the show, it's in the fact that they've created a community that can do that and has done it on a global scale. It's something that people would never say could have happened, and more so than the #SaveShadowhunters thing, they should be super proud and we're super proud that we could motivate a group of people to do something like that. It's cool. Humbling."
Matthew adds that he's been shocked at everything the fans have been doing.
"It's like, 'Okay, wow! Didn't realize you guys were this capable, this efficient and this creative!' It's very fascinating, and I love the enthusiasm," he says.
"The charity efforts are really good, because it's not just selfish, it's not just, 'We want our show back,' it's also, 'Look we have this show that we bonded over, and we're going to try to do something for the community, and really support something that's good for all people, The Trevor Project.' It's really kind of touching."
The #SaveShadowhunters campaign is still going strong, however, the cast just wrapped filming on the possible series finale this week.
READ MORE:
Katherine McNamara Shouts Out Fans Raising Money For Trevor Project All While Trying to Save 'Shadowhunters' Too
'Shadowhunters' Producer Reveals They're Hoping To Revive The Show As #SaveShadowhunters Campaign Gets Louder
Like Just Jared Jr. on FB