Sun, 19 August 2018 at 7:14 pm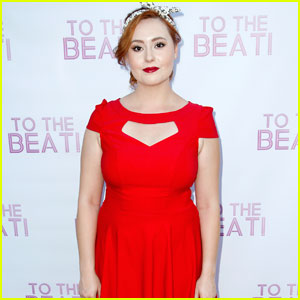 You might know Jillian Clare from her role on Victorious, but she's now taking a turn behind the camera!
Since wrapping the show and her digital series Miss Behave, Jillian has been super busy and added director and producer to her resume!
Jillian recently released her latest project, teen dance comedy To The Beat, which follows twin sisters who enter a social media contest to be dancers in their favorite pop stars music video.
Now Jillian is filling us in with 10 Fun Facts about her life since she decided to try things out behind-the-scenes!
Check out what Jillian had to say:
1. I'm a dog mom to two beautiful rescues! Amelia Pond (named after the Doctor Who character), who is a White German Shepherd and Tala who is an Alaskan Malamute.
2. I recently produced and starred in the indie film Pretty Broken – it was my first time producing and acting as the lead in a feature film!
3. Kate Winslet and Natalie Portman are my favorite actresses.
4. My favorite snack is olive tapenade on baguette bread!
5. I love boxing – even have a bag in my backyard.
6. I can speak a little Korean and a little French.
7. With every new role I create a new journal just for that project so I can remember all the little things.
8. I said my first curse word at the top of Splash Mountain at Disneyland when I was just a little girl! I was apparently very excited.
9. Currently reading the Harry Potter series for the first time – I'm a Ravenclaw, btw.
10. Next place I'd love to visit is Mykonos, Greece!
Jillian and the To The Beat cast, including Laura Krystine, Brisa Lalich and Jayden Bartels, also recently celebrated the film's Netflix debut with a fun party!
Check out pics from the release bash below…
Like Just Jared Jr. on FB