Thu, 23 August 2018 at 6:45 pm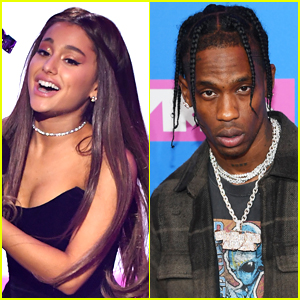 Ariana Grande wants everyone to know that she has a funny side.
The 25-year-old singer attended a listening party for her new album last night, a video surfaced of Ariana seemingly shading Travis Scott amid his feud with Nicki Minaj.
"We got three days left," Ariana said. "You don't know what Travis could pull!"
If you don't know, Ariana's close friend Nicki Minaj has been calling out Travis Scott (and Kylie Jenner) for days over his album sales, which are linked to his tour ticket sales via bundles.
The following day, Ariana took to Twitter to clarify her comments.
"i adore travis & kylie and i love the astroworld album a joke issa joke watch the video," Ariana first tweeted. "stop using me for clickbait so i can come online n celebrate my number one too pls ! hip hip hooray !"
"also everything literally almost everything i say i say for comedic effect and am never serious …. like i'm always 'on'…. if ever u think i'm being shady i'm jus goin for the laugh ….. if i'm being fr shady you'll know. i'm a v loving lil babe 👼🏼," Ariana wrote in a second tweet.
i adore travis & kylie and i love the astroworld album a joke issa joke watch the video, stop using me for clickbait so i can come online n celebrate my number one too pls ! hip hip hooray !

— Ariana Grande (@ArianaGrande) August 23, 2018
also everything literally almost everything i say i say for comedic effect and am never serious …. like i'm always "on"…. if ever u think i'm being shady i'm jus goin for the laugh ….. if i'm being fr shady you'll know
i'm a v loving lil babe 👼🏼

— Ariana Grande (@ArianaGrande) August 23, 2018
Like Just Jared Jr. on FB