Fri, 24 August 2018 at 6:45 pm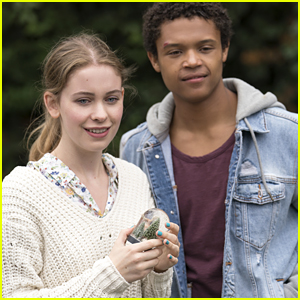 We have a feeling that Sorcha Groundsell, who stars on The Innocents, is going to have to keep pronouncing her name for everyone.
While it may look like it's pronounced Sor-cha, with a soft 'ch', it's not.
n fact, it's pronounced Sore-a-ka, with a hard 'ch' sound. If you're confused by that, just listen to her co-star Percelle Ascott pronounce it here.
While speaking with Vogue recently, Sorcha opened up about her chemistry read with Percelle.
"It was a fairly standard process. I had an audition, after three months they called me for another and then we started with the recordings," she recalled. "I think the fact that Percelle, who plays Harry, and I have little experience has made everything more balanced."
"Together we have gone through a whole process and assimilated phrases like 'Oh, my God !, we are doing this,'" Sorcha adds.
The Innocents is streaming now on Netflix.
Like Just Jared Jr. on FB