Fri, 24 August 2018 at 12:22 pm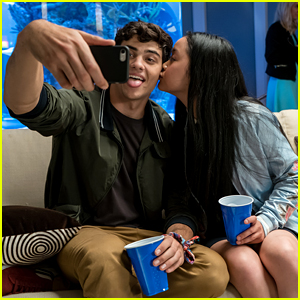 Who's ready to hear news about the To All The Boys I've Loved Before? Yea, we are too.
However, we'll still have to wait a bit on that end.
"We're all attached contractually if we want to do the movie again, which is super exciting, and if our schedules all key up," director Susan Johnson explained to ET. "Netflix said that their general timeframe is 28 days; they watch how well the movie does over the period of a month and once that's over, they can make a decision about a sequel. I love the fans being vocal about it, the more, the better."
However, we do have more intel about what the sequel would be about.
"We'll borrow from the third book ["Always and Forever, Lara Jean"] too like we did for the first movie. It's pretty fluid," she added. "The script isn't written, but I'm anxious to have them say yes so we can get going on it really quickly because you don't want to rush it."
Susan continued that Lara Jean and Peter's happy ending is going to be short-lived, all because of John Ambrose McClaren's surprise arrival.
"The struggle of what that means and not having a contract and trust — all those issues that they talk about on the field at the very last scene," she says. "Relationships are hard to navigate and they'll find themselves in one. And they'll discover what the next person might bring in John Ambrose McClaren."
"We're so invested in Peter and Lara Jean, that seeing them go through struggles is going to be hard but also something everybody can relate to. The next shiny face comes in and you're like, Oh shoot, this guy's really nice too. What do I do?"
You can stream To All The Boys I've Loved Before now on Netflix.
Like Just Jared Jr. on FB