Sat, 25 August 2018 at 7:26 pm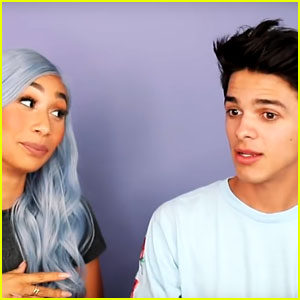 Eva Gutowski and Brent Rivera are spilling all the tea on their relationship.
The YouTubers took fans inside their journey in a video Eva posted this week, titled "Confronting My Crush, Brent Rivera."
Early on, Eva totally started crushing on Brent, and she thought she was getting signs from him too, but Brent felt differently.
"I know that I led you on, and I know that it was my fault that you were crying," he says. "And that's why I felt bad because you were my friend. You never want to see your friend cry, and when it's because of you, that hurts even more."
"I just uploaded a new video with Brent all about #Breva 👀❤️ Brent, I'm so glad we got to grow up a little bit together, even if it got crazy sometimes (my fault and yours 😂)," Eva added on Instagram. "I can't wait to see you continue to mature into Brent 2.0 and 4.0 and 100.0. You truly are one of my favorite people to spend all day with doing nothing. ☀️ If we've made it through the last 4 years, i think we'll be friends forever. Love (in a frienship way) your friend, friend Eva 🤪."
Eva is currently romantically linked to Adam Bartoshesky, but she and Brent will always remain friends.
Watch Eva's video – and Brent's new video featuring the duo – below!

Confronting My Crush, Brent Rivera | MyLifeAsEva
Click inside to watch Brent's video…

5 SIGNS A BOY DOESN'T LIKE YOU (W/ MyLifeAsEva) | Brent Rivera
Like Just Jared Jr. on FB