Sat, 06 October 2018 at 12:11 pm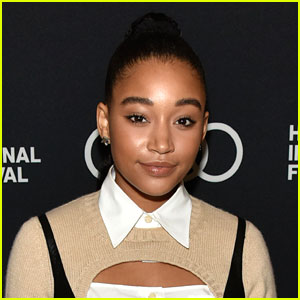 Amandla Stenberg has bravely opened up about her own experiences with sexual assault.
The Hate U Give star shared her story in a new op-ed piece written for Teen Vogue.
"What started as a consensual experience had turned forceful. Painful things had been done to my body that made me feel broken and disposable. I was unable to consent to them, and was silenced verbally and physically when I protested," she wrote.
"I woke up to a text message that said I should 'probably find a plan B.' This proved to be much more challenging than I anticipated, and ultimately required a trek to a women's clinic on the outskirts of town," Amandla continued. "The train bench felt like a murky pool under my thighs. I was sitting in that soup of guilt and shame that often follows an unwarranted sexual experience. My body hurt and my mind was on a one-track loop, dissecting all the things that I was culpable for, that must have led me to my predicament."
"Embarrassment coursed through my blood, making it hot and tense and stinging my nerves, while a strange lethargy trudged its way through my limbs. I downplayed what had happened to my friends. Being candid about how I felt seemed disruptive or weak, and I didn't want to burden them with the responsibility of helping me process something that I felt was my fault," she added.
To read Amandla's full piece, head over to TeenVogue.com.
If you or someone you know has been sexually assaulted, you can seek help by calling the National Sexual Assault Hotline at 800-656-HOPE (4673).
Like Just Jared Jr. on FB