Sun, 07 October 2018 at 12:47 pm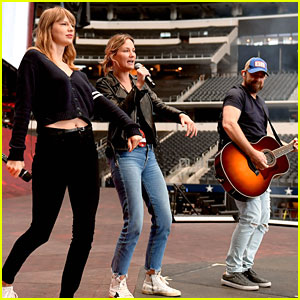 Taylor Swift rehearses with Sugarland ahead of the reputation Tour show at AT&T Stadium on Saturday night (October 6) in Arlington, Tex.
The 28-year-old singer was joined by her "Babe" collaborators for the first ever live performance of the song by the trio.
"'Babe' live for the first time tonight in Dallas!!!! THIS WAS SO MUCH FUN. @sugarland @jennifernettles @kristianbush," Taylor wrote on Instagram with a video.
"To everyone who came to the show and everyone who wished us well tonight, thank you ❤️ We had an indescribably incredible time with you Dallas, thanks for making us the first tour to play back to back nights in AT&T Stadium 💋💋💋💋💋💋💋💋💋💋💋💋💋," she added.
Taylor will next perform at the American Music Awards on Tuesday (October 9), then head to Australia later this month to continue with the last of the rep Tour shows.
Like Just Jared Jr. on FB