Mon, 08 October 2018 at 12:47 pm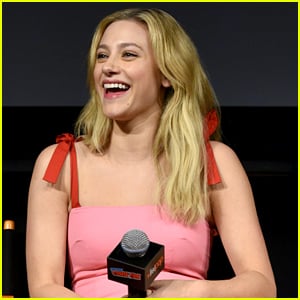 With just two more days until the season three premiere of Riverdale, we're getting a ton of new intel about the new season and Lili Reinhart spilled a lot over the weekend at New York Comic Con.
Speaking on a panel with co-stars KJ Apa, Madchen Amick and Luke Perry, the 23-year-old actress opened up about the season's theme, playing a young Alice Cooper and more. Check it:
On this season's theme: "I would describe the main mystery in the first half of the season as sort of an epidemic in Riverdale. It involves everyone in the town, and it's kind of like a crisis…I was nervous [about the first script], and you don't know why yet. I really had to put myself in kind of a vulnerable state."
On channeling Madchen Amick to play a young Alice: "I have to say, the makeup and hair process helped a lot. I have very curly, long hair…thinking like Twin Peaks vibes [looks to Madchen]. I do my own makeup on the show this season, so I was looking at pictures of Madchen when she was on Twin Peaks and kind of darkening the eyebrows and using the lip liner. It was really fun. As soon as I had the look going, it really just came naturally. When that episode was over, I was sad, because I missed playing young Alice. I think the episode is going to be a fan favorite."
On the writers not taking suggestions from fans and sticking to their own instincts: "It would be so much less interesting if everything fans wanted to happen on the show, happened. I feel like the steam would run out really quickly. I think it's good that the writers kind of continue [to write] what they want. It's not anyone else's vision, it's Robert's and the writers'. That's all that matters."
Riverdale returns Wednesday, October 10th on The CW.
Like Just Jared Jr. on FB