Tue, 09 October 2018 at 6:44 pm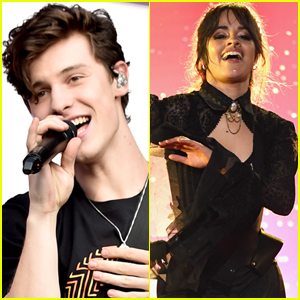 The 2018 iHeartRadio Jingle Ball Tour Presented By Capital One® lineup has just been announced – and it's a must-see this year!
Shawn Mendes, Camila Cabello, Cardi B, Alessia Cara, Bebe Rexha, Calvin Harris and many more will be hitting the road for the upcoming tour.
The event will be featured as an exclusive broadcast television special on The CW Network on December 16 at 8 p.m. ET/PT.
The tour will stop in Dallas, Los Angeles, San Francisco, Minneapolis, Boston, Philadelphia, New York, Washington, D.C., Chicago, Atlanta, Tampa, and Miami/Ft. Lauderdale.
For all ticket and date information, click here.
See the full schedule below!
The iHeartRadio Jingle Ball Tour 2018 Schedule:
Dallas, Texas – Tuesday, November 27 at 7:30 p.m. CST
106.1 KISS FM's Jingle Ball 2018 Presented by Capital One at American Airlines Center
Shawn Mendes, Calvin Harris, Alessia Cara, NF, Bebe Rexha, Bazzi and Sabrina Carpenter
Los Angeles, Ca. – Friday, November 30, at 7:30 p.m. PST
KIIS FM's Jingle Ball 2018 Presented by Capital One at The Forum
Cardi B, Shawn Mendes, Calvin Harris, Camila Cabello, Khalid with Special Guest Normani, Dua Lipa, G-Eazy, Alessia Cara, Bazzi and Bebe Rexha
San Francisco – Saturday, December 1, at 7:30 p.m. PST
WiLD 94.9′s FM's Jingle Ball 2018 Presented by Capital One at Bill Graham Civic Auditorium
Calvin Harris, 5 Seconds of Summer, Alessia Cara, Khalid with Special Guest Normani, Sabrina Carpenter, Bazzi and Marc E. Bassy
Minneapolis/St. Paul, Minn. – Monday, December 3, at 7:30 p.m. CST
101.3 KDWB's Jingle Ball 2018 Presented by Capital One at Xcel Energy Center, St. Paul
The Chainsmokers, 5 Seconds of Summer, Bebe Rexha, Bazzi and Sabrina Carpenter
Boston, Mass. – Tuesday, December 4, at 7:00 p.m. EST
KISS 108′s Jingle Ball 2018 Presented by Capital One at TD Garden
Shawn Mendes, Camila Cabello, The Chainsmokers. G-Eazy, Khalid, Meghan Trainor and Bazzi
Philadelphia, Pa. – Wednesday, December 5, at 7:30 p.m. EST
Q102′s Jingle Ball 2018 Presented by Capital One at Wells Fargo Center
Shawn Mendes, Camila Cabello, Calvin Harris, 5 Seconds of Summer, Marshmello, Dua Lipa, G-Eazy and Bazzi
New York, N.Y. – Friday, December 7, at 7:00 p.m. EST
Z100′s Jingle Ball 2018 Presented by Capital One at Madison Square Garden
Cardi B, Shawn Mendes, Camila Cabello, Calvin Harris, G-Eazy, Dua Lipa, Khalid with Special Guest Normani, Alessia Cara, Meghan Trainor, Bebe Rexha, Bazzi and Sabrina Carpenter
Washington, D.C. – Monday, December 10, at 7:30 p.m. EST
Hot 99.5′s Jingle Ball 2018 Presented by Capital One at Capital One Arena
Shawn Mendes, The Chainsmokers, G-Eazy, Meghan Trainor, NF, Bebe Rexha, Bazzi and Sabrina Carpenter
Chicago, Ill. – Wednesday, December 12, at 7:30 p.m. CST
103.5 KISS FM's Jingle Ball 2018 Presented by Capital One at Allstate Arena
Shawn Mendes, Calvin Harris, Dua Lipa, Alessia Cara, Bebe Rexha, Bazzi and Sabrina Carpenter
Atlanta, Ga. – Friday, December 14, at 7:30 p.m. EST
Power 96.1's Jingle Ball 2018 Presented by Capital One at State Farm Arena
Shawn Mendes, Calvin Harris, G Eazy, Marshmello, Bazzi, Alessia Cara and Sabrina Carpenter
Tampa Bay, Fla. – Saturday, December 15, at 7:00 p.m. EST
93.3 FLZ's Jingle Ball 2018 Presented by Capital One at Amalie Arena
Shawn Mendes, Marshmello, Khalid, NF, Bebe Rexha, Bazzi and Sabrina Carpenter
Ft. Lauderdale/Miami, Fla. – Sunday, December 16, at 7:30 p.m. EST
Y100 Jingle Ball 2018 Presented by Capital One at BB&T Center, Ft. Lauderdale
Shawn Mendes, Calvin Harris, Khalid, Marshmello, Bebe Rexha, Alessia Cara, Bazzi and Sabrina Carpenter
Like Just Jared Jr. on FB
Photos: Getty Images
Posted to:
5 Seconds of Summer
,
Alessia Cara
,
bazzi
,
Bebe Rexha
,
Calvin Harris
,
Camila Cabello
,
Cardi B
,
Dua Lipa
,
g-eazy
,
khalid
,
Marshmello
,
Meghan Trainor
,
NF
,
normani
,
Normani Kordei
,
Sabrina Carpenter
,
Shawn Mendes
,
The Chainsmokers