Wed, 17 October 2018 at 1:38 pm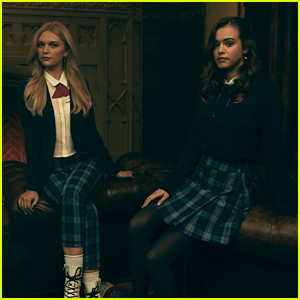 Kaylee Bryant and Jenny Boyd will be making their debut as Josie and Lizzie Saltzman on Legacies next week and opened up to EW about the twin characters, and how they couldn't be more different from each other.
"Lizzie is very vulnerable, and I think she is quite insecure on the inside," Jenny says of her character. "Josie is a caretaker. She's a little more softly spoken, and Lizzie's the headstrong sister."
Kaylee adds, "Josie's kind of the lesser half of the Saltzman twins. Lizzie takes up a lot of space and can make a mess out of anything, and Josie is very quick to clean up those messes and be the one to make sure that Alaric and her are as set up as they can be, even if it kind of hinders her own life sometimes."
Showrunner Julie Plec also talked about the twins in the new series: "They're these beautiful, deeply flawed, and wonderful young women. Lizzie Saltzman so desperately wants to be loved and adored, and I think that's born out of feeling a little bit like her dad has this special surrogate daughter relationship with Hope."
So, be prepared for some drama with Lizzie and Hope in the new show.
"To quote her, she thinks Hope is 'stuck up,'" Julie adds. "Hope doesn't make any effort to be friends with anybody. So she loves to go out of her way to poke at Hope and to make comments about her, just all born out of a place of utter, delicate jealousy."
Legacies debuts on Thursday, October 25th on The CW.
Like Just Jared Jr. on FB