Wed, 24 October 2018 at 3:22 pm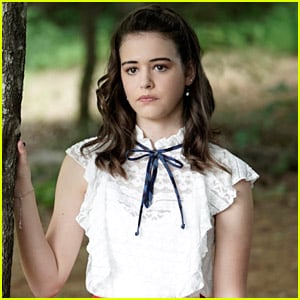 When Legacies debuts, Josie Saltzman will just be getting out of a relationship with a girl.
Kaylee Bryant, who plays the twin witch in the show, opened up to ET about why that is an exciting and also important story to tell.
"Josie is introduced as she's getting out of a relationship with another female character, and then she's kind of finding interest in a boy," Kaylee explains of where we'll find the character in the series premiere. "I think that it's a really beautiful story that isn't told so often."
She adds, "We've heard the coming out story, [and] I love hearing the coming out story because it's still very much a problem. That being said, Josie is growing up in a very loving environment where her father is fighting actual demons, her father knows what evil is and he knows that his daughter having a girlfriend is not something to demonize."
"I think that's a really exciting story to tell and I'm excited for another 15-year-old girl out there who has a crush on a girl one week and has a crush on a boy the next week can watch this show and say, 'Hey, that's not a bad thing and I should be able to love who I love and not have to apologize for that.'"
Kaylee adds that seeing Josie's relationships with both women and men is really important to tell.
"In a lot of places it is not normal," she shared. "It's still something that a lot of people still very much struggle with. That being said, Josie's story isn't that because of the environment that she's grown up in…I don't think that by any means we are saying, 'This is how it is now and this is normal.' It just so happens that Josie is really lucky to be in the family and the community that she is."
Legacies debuts on Thursday, October 25th on The CW.
Like Just Jared Jr. on FB