Thu, 25 October 2018 at 3:41 pm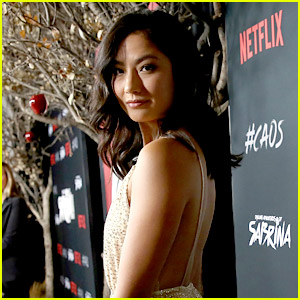 Adeline Rudolph plays one of the three Weird Sisters, Agatha, on Chilling Adventures of Sabrina – which debuts at midnight on Netflix.
In a recent Q&A on Instagram Stories, we learned a lot about the actress from her favorite ice cream flavor, her friendship with co-star Abigail Cowen, to even how she found out she got the role.
Check it out below!
On her favorite book: "Shantaram by Gregory David Roberts"
On how she reacted when she got the role: "CRIED. I found out in a little cafe. I had just arrived and got a coffee when my agents called."
Her favorite TV show: "OC California will forever by my show. Made me want to move to the States/California when I was a teenager."
On her favorite food: "Thai food, all day every day. I'm not a picky eater so I like everything. Also, the spicier the better."
On describing her friendship with Abbey: "Goofy, loving, fun, adventurous, honest, etc."
On her chemistry with the cast: "Not only do we just have a lot of laughs when working, but everyone is so ridiculously good and talented at what they do. it's truly wonderful to see first hand."
Her favorite ice cream flavor: "Anything chocolatey, gooey, salted caramel, cookies and cream."
On her skincare routine: "Honestly, just taking off my makeup, washing my face and then putting on moisturizer."
On her ethnicity: "German, Korean, hybrid."
On if she speaks Chinese: "I was born and raised in Hong Kong, but don't speak Chinese unfortunately…"
Like Just Jared Jr. on FB