Wed, 31 October 2018 at 3:09 pm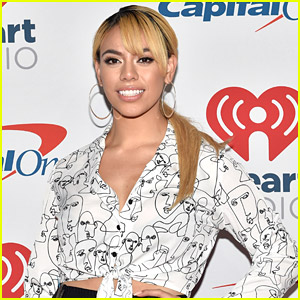 Dinah Jane is opening up about what's ahead in her solo music career, and promises that fans will love it.
Speaking with ET, the 21-year-old singer dished about why she picked "Bottled Up" for her first solo single.
"This specific record, I just wanted to come out with people actually vibing," she explains. "I just wanted to take it to a party scene."
Dinah adds, "I felt it being a very relatable message just because I know so many people turn to substances to get their feelings out. It's not healthy to bottle up your feelings, but if this is what's helping you to get it out, then that's the best way to do it. With that being said, this record is very special to me and especially having Ty and Marc on it means the world."
She also revealed that fans will be able to "find out more of who I am through the music" she has coming up.
"Now's the time to do that because I actually know who I am and I've kind of found a love for a certain genre that I'm really into," Dinah continued. "I'm creating that path for myself."
"Music is the outlet for me because when I do step into the studio I feel no barriers. I don't feel like anybody can stop me when it comes to music."
Like Just Jared Jr. on FB