Fri, 02 November 2018 at 11:57 am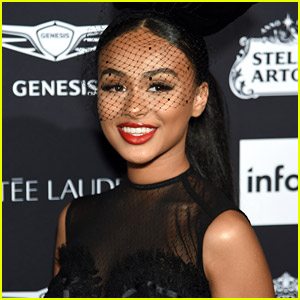 Daniella Perkins might play a biracial princess on the small screen right now in Knight Squad, however, she admits it's still difficult for some to look past that – especially in auditions.
In a new interview with Complex, the 18-year-old actress opened up about a lot of her career – from fashion, to her start on Musical.ly (now TikTok) and more.
But one of the biggest takeaways was Daniella admitting that she still has dilemmas in auditions because she is biracial.
"It's hard for me to feel accepted sometimes as a mixed race actress," she shared. "For some auditions I'm not black enough, but no part of me could ever pass as a white woman."
She adds, "Recently, I went on a few auditions that ended up all going to blonde actresses, but I'd never go out for something intended for someone darker."
Daniella also spoke about the importance of Knight Squad's Ciara and what that means for younger viewers and fans.
"It means everything to me to play a character everyone can relate to but more importantly girls of color can connect with. When you're little, seeing someone on screen that looks like you really sticks with you," she says. "I was talking with someone my age recently who didn't realize why it's so impactful to have actors of multiple races play powerful parts."
Daniella continued, "Although we've come so far, we're still very far from where we need to be. It really just made me more aware that not everyone understands how much representation is still lacking on screen."
Like Just Jared Jr. on FB