Sat, 03 November 2018 at 10:57 am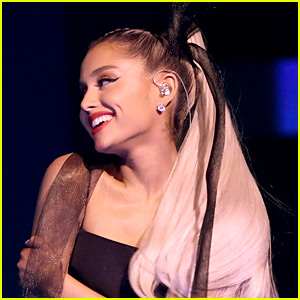 We will be getting new music from Ariana Grande way sooner than we ever thought!
The 25-year-old singer dropped her fourth album Sweetener in August, but she's already planning the release of her fifth album, which she just revealed is titled Thank U, Next.
Ari took to Twitter on Saturday morning (November 3) to open up about the album, which she wrote with one of her best friends, Victoria Monet.
"a new chapter 🖤 gratitude, growth, embracing our path bumps n all …. thank u, next," Ariana wrote. "no drags…. no shade….. jus love, gratitude, acceptance, honesty, forgiveness … and growth 🖤"
She added, "this what happens when u write an album w your best friends lol @VictoriaMonet they dig up all your old sayings and it ends up becoming the album title lmao."
It sounds like "Thank U, Next" might be the first single as she also said fans will hear the song before the album. Read all of Ari's tweets from this morning below.
ARE YOU EXCITED for Ariana Grande's upcoming album?
cause her name is Ari …. n i'm so good w thaaaat

— Ariana Grande (@ArianaGrande) November 3, 2018
n how she handles pain …. that shits amazin

— Ariana Grande (@ArianaGrande) November 3, 2018
Click inside to read the rest of the tweets…
it's funny because ty,n is kinda the exact opposite of knew better but ….. you'll see https://t.co/h6NwfP8dkt

— Ariana Grande (@ArianaGrande) November 3, 2018
u already know it 🖤 https://t.co/AymjaZARLd

— Ariana Grande (@ArianaGrande) November 3, 2018
exactly …. a new chapter 🖤 gratitude, growth, embracing our path bumps n all …. thank u, next https://t.co/D4J0DzpnPJ

— Ariana Grande (@ArianaGrande) November 3, 2018
no drags…. no shade….. jus love, gratitude, acceptance, honesty, forgiveness … and growth 🖤

— Ariana Grande (@ArianaGrande) November 3, 2018
anyway …… thank u, next

— Ariana Grande (@ArianaGrande) November 3, 2018
this what happens when u write an album w your best friends lol @VictoriaMonet they dig up all your old sayings and it ends up becoming the album title lmao

— Ariana Grande (@ArianaGrande) November 3, 2018
nah that's all you mommy 🖤 https://t.co/PO4TQmPxYI

— Ariana Grande (@ArianaGrande) November 3, 2018
.

— Ariana Grande (@ArianaGrande) November 3, 2018
.

— Ariana Grande (@ArianaGrande) November 3, 2018
.

— Ariana Grande (@ArianaGrande) November 3, 2018
@VictoriaMonet @NJOMZA @TAYLAPARX why r we awake sitting in my kitchen revealing so much information rn

— Ariana Grande (@ArianaGrande) November 3, 2018
thank u, next

— Ariana Grande (@ArianaGrande) November 3, 2018
hi ily i'm happy

— Ariana Grande (@ArianaGrande) November 3, 2018
— Ariana Grande (@ArianaGrande) November 3, 2018
lmaoooo https://t.co/iX96iwXX6G

— Ariana Grande (@ArianaGrande) November 3, 2018
i love u https://t.co/bUdTRpIl9W

— Ariana Grande (@ArianaGrande) November 3, 2018
issa song and an album …. you'll get the song first https://t.co/Bv99dX7mM1

— Ariana Grande (@ArianaGrande) November 3, 2018
of course my love …. i'm gonna jus keep creating and putting stuff out as i please 🖤 it feels good to my soul and i love keeping the kids fed https://t.co/AHRsNTPoFt

— Ariana Grande (@ArianaGrande) November 3, 2018
Like Just Jared Jr. on FB