Mon, 12 November 2018 at 1:31 pm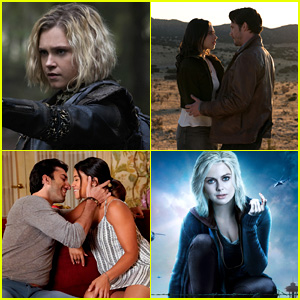 We've been waiting, and waiting, and waiting for any news on just when The 100, iZombie, Jane The Virgin and new series, Roswell New Mexico, are premiering on The CW and we finally have dates!
The network announced mid-season premiere dates, return dates, an even schedule switchups that will be coming in January 2019.
First up, Roswell, New Mexico will make its' debut on Tuesday, January 15th @ 9PM ET/PT, which will move Black Lightning to Mondays, starting on January 21st.
Check out the full schedule of premieres, returns and more inside now!
The following is The CW's January 2019 schedule, including midseason return dates:
FRIDAY, JANUARY 11, 2019
9:00-10:00pm CRAZY EX-GIRLFRIEND (Midseason Return)
TUESDAY, JANUARY 15, 2019
8:00-9:00pm THE FLASH (Midseason Return)
9:00-10:00pm ROSWELL, NEW MEXICO (Series Premiere)
WEDNESDAY, JANUARY 16, 2019
8:00-9:00pm RIVERDALE (Midseason Return)
9:00-10:00pm ALL AMERICAN (Midseason Return)
THURSDAY, JANUARY 17, 2019
8:00-9:00pm SUPERNATURAL (Midseason Return)
9:00-10:00pm ROSWELL, NEW MEXICO (Encore of Premiere)
FRIDAY, JANUARY 18, 2019
8:00-9:00pm DYNASTY (Midseason Return)
9:00-10:00pm CRAZY EX-GIRLFRIEND (Original Episode)
SUNDAY, JANUARY 20, 2019
8:00-9:00pm SUPERGIRL (Midseason Return)
9:00-10:00pm CHARMED (Midseason Return)
MONDAY, JANUARY 21, 2019
8:00-9:00pm ARROW (Midseason Return)
9:00-10:00pm BLACK LIGHTNING (New Time Period Premiere)
THURSDAY, JANUARY 24, 2019
8:00-9:00pm SUPERNATURAL (Original Episode)
9:00-10:00pm LEGACIES (Midseason Return)
Like Just Jared Jr. on FB