Tue, 13 November 2018 at 1:45 am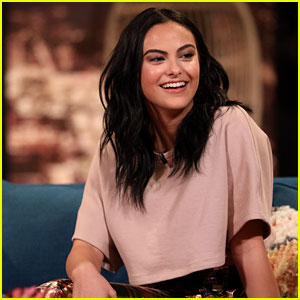 This is co cute.
Camila Mendes made an appearance on Busy Tonight on Monday (November 12) to open up about why her Riverdale co-star and real-life boyfriend Charles Melton has nicknamed her "baby dragon!"
"I can be quite…I guess just ferocious is the only word, but it's like a cute type of ferocious," Camila told host Busy Philipps. "I'm Brazilian, we're like passionate, so sometimes it's like a little baby dragon comes out."
On the fame and the internet, Camila shared, "It's just really hard to be organic all the time when you feel like you can see the words on the page of everything that you're saying. Like as you're speaking you're like, This. Is. Going. To. Be. A. Headline. What I hate more is like the immediate, like, how some people online are so quick to make judgements on what you've said without a certain amount of information."
"It's kind of I feel like just something we have to accept," she added. "For me it's helpful to just acknowledge that like, there are going to be people out there who don't like me, there are going to be people who are going to hate on me, and like, is it really worth trying to fight that or just kind of like staying confident and reassuring myself that I know who I am, I know what I meant when I said that, and like, that's okay…Sometimes I feel like the internet is a lost cause, like it's out of our control."
Camila also discussed finding a balance between her private and public life, and sweating before her Riverdale audition. Watch below!
Camila Mendes Explains BF Charles Melton's Nickname For Her | Busy Tonight | E!
Click inside to watch the other video…

Camila Mendes Talks "Riverdale" & How She Stays Confident | Busy Tonight | E!
Like Just Jared Jr. on FB