Wed, 14 November 2018 at 1:27 pm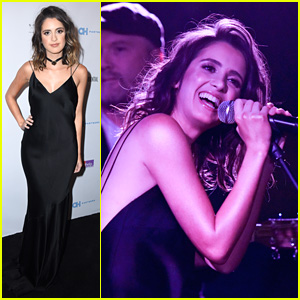 Laura Marano is all smiles up on stage during her performance at the 2018 Childhelp Hollywood Heroes Benefit on Tuesday night (November 13) in Los Angeles.
The 22-year-old actress and singer recently stopped by Travis Mills' Beats 1 show to talk up her new single, "Me" – and all about still using a flip phone.
During the interview, Laura revealed that a police officer roasted her on having one while she was filming Saving Zoe.
We were filming it in Augusta, Georgia and I'm in the van. And we had police officers there riding in the van with us. And literally, I'm on a business call and the police officer just goes right next to my sister and he's sitting in the middle," Laura started to shared. "He was like, 'So, is that burner phone? Does she sell drugs?'"
She continued, "I was like, 'No!' I like had to take the phone off, I'm like, 'I do not! Why can't a girl just have a flip phone? Damn it!'"
LOL!
Like Just Jared Jr. on FB