Fri, 16 November 2018 at 3:51 pm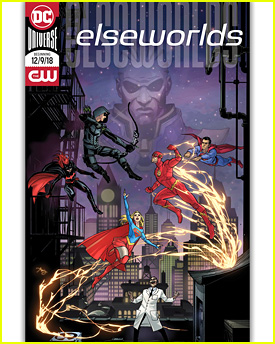 From the two sneak peeks that were released earlier this week, we know that Barry Allen and Oliver Queen are switching lives – and they're the only ones who know it.
Speaking to EW, Grant Gustin, Stephen Amell and Melissa Benoist all opened up about the upcoming crossover, titled Elseworlds.
"You're not going to see me playing Oliver Queen's mannerisms, or Stephen playing Barry's mannerisms. It's more being aware that for some reason we've switched lives and destinies. It's more the fun of the situational comedy that we keep finding ourselves in, and less us having a complete role reversal," Grant shared, adding that Stephen will be do "some of the more goofy speed stuff I have to do on a regular basis, and I get some actual combat as Green Arrow. So, we just see different colors for each of us."
"Having superpowers is crazy! Wearing the Flash suit is crazy!" Stephen added. "The idea is that in order to be the best version of Barry Allen, which I have to be because we face a threat, there are elements of his personality I have to embrace, and there are elements of my personality that he has to embrace."
Melissa, who plays Supergirl, is the only character who know the two aren't in their right lives, and actually finds it hilarious: "The comedy just lives in this. Even just seeing them in each other's suits is funny; they're literally putting themselves in each other's shoes!"
She adds, "She inevitably becomes kind of a middleman because ultimately there's conflict between the two and they start butting heads."
The crossover event kicks off on Sunday, December 9th and wraps up on Tuesday, December 11th @ 8PM ET/PT on The CW.
Check out all the promo pics for it below!
Like Just Jared Jr. on FB