Mon, 26 November 2018 at 9:31 am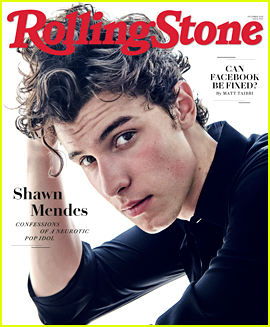 Shawn Mendes is getting his close up on the cover of Rolling Stone's brand new issue.
The 20-year-old entertainer spoke about his sexuality, the past Hailey Bieber relationship rumors, and more. Here's what he shared…
On his need to prove that he's not gay: "In the back of my heart, I feel like I need to go be seen with someone — like a girl — in public, to prove to people that I'm not gay. Even though in my heart I know that it's not a bad thing. There's still a piece of me that thinks that. And I hate that side of me."
On his sexuality: "I thought, 'You f*cking guys are so lucky I'm not actually gay and terrified of coming out.' That's something that kills people. That's how sensitive it is. Do you like the songs? Do you like me? Who cares if I'm gay?"
On his relationship with Hailey Bieber, who he acknowledges he was more than just friends with: "I don't even wanna put a title on it. I think it was more of a zone of limbo….I texted Hailey [after her engagement], 'Congratulations,' and I really am happy for them. She's still one of the f*ucking coolest people ever — she's not just a beautiful person visually, but she's one of the most beautiful hearts I've ever met."
For more from Shawn, visit RollingStone.com.
Like Just Jared Jr. on FB