Wed, 28 November 2018 at 4:49 pm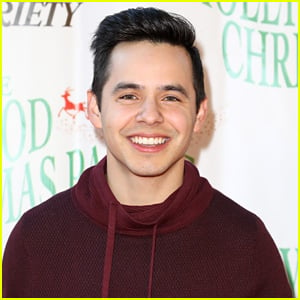 David Archuleta is one of the best known American Idol alums, and in a new interview, is opening up about his struggles after appearing on the program.
The now 27-year-old singer, with a brand new Christmas album out, revealed to Yahoo that after his run in season seven, he suffered from PTSD.
"You're basically a character on a TV show, and parts of it are worked so that it fits the TV show — but they're using your personal life," David explains about what he meant by using the term of PTSD. "So you become this character, but it's with your own name, parts of who you actually are, but other parts that are portrayed in a way that you're not actually."
He adds, "Then everyone feels like they know you, and they know what you are, and they know how to treat you, and have certain expectations…This was years ago, right? But there's still certain things about us that we still had certain little tics that we're paranoid about certain things. …Eight, nine, 10, 11 years later, we're still kind of stuck in some of those patterns of thinking."
David continued about how it was another former contestant who turned him onto therapy.
"I realized maybe I can let people into my life. Maybe I can be more trusting. Because maybe there was a certain time in my life where I did have to be a lot more cautious, and I had to be careful with who was around me," David says. "But I've been able to grow from that, and it's like, 'Well, I want to have friends, or be in a relationship with someone.'"
"You have to learn to open up, and something I've had a really hard time with is trusting people. I'm always like, 'No, people can't know where I live. Even my own relatives can't have my own number' — because I'm so afraid of someone getting into my personal space, my life."
Most recently, David appeared in the Hollywood Christmas Parade with more Idol alums.
Like Just Jared Jr. on FB