Mon, 03 December 2018 at 4:15 pm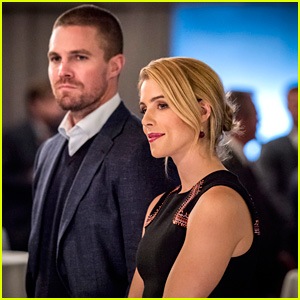 Oliver sticks by Felicity while out at a gala in this new still from tonight's Arrow.
This marks the first episode since Oliver's release from Slabside, and he's definitely coming back to normal life a changed man.
"I know they wanted Oliver back in the world, and he is and in a new and exciting way," Stephen Amell shared about his release. "It felt like we were treating my experience at Slabside like I spent a night in county jail. In actuality, even for Oliver, it was a pretty horrific experience."
He continues, "I did want a change in him. I wanted a change in him in the way that he interacts with people, with the public, and even so far as his wardrobe."
"In the first episode that I'm out, we had him going to a gala, and I was in sort of like the same suit that I would wear as the mayor," Stephen adds. "I didn't like that. So we pushed that in a different direction…the first time that you see Oliver, we came up with a really interesting way I think of showing what prison life did to him without really bashing people over the head with it."
Arrow airs TONIGHT, December 3rd @ 8PM ET/PT on The CW.
Like Just Jared Jr. on FB