Wed, 12 December 2018 at 12:28 pm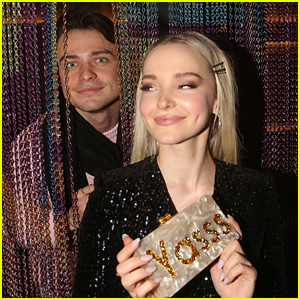 Dove Cameron got photobombed by her own boyfriend!
Thomas Doherty tried to be stealthy, sneaking up behind his girlfriend at the opening night after party for Clueless: The Musical held at The Green Fig Urban Eatery at Yotel on Tuesday night (December 11) in New York City – but it looks like she caught him.
In a new Instagram, Dove also opened up about having a big dream of hers come true after the official opening night of the stage play last night.
"For as many times as i imagined my life turning out like this, i never really BELIEVED that my life would turn out like this. or, maybe i did," Dove wrote with a throwback pic of her with her sister, Claire.
She continued, "Childhood fantasy is hard to define and discern. but here is a photograph of me (10) and my sister (17), together and seeing times square for the first time ever. me, swearing up and down that i would be one of the people on these marquees one day. collecting every @playbill that i could find, never thinking that one day i would be on the cover of my own."
"i don't know why i'm writing this to millions of strangers on instagram, except to say that it's 6:26 in the morning, i should be asleep, #cluelessmusical is now officially open in Manhattan, i love my friends, my family, and @thomasadoherty, i can't believe my luck, and i wish my father was here. sweet dreams."
Like Just Jared Jr. on FB