Mon, 17 December 2018 at 6:44 pm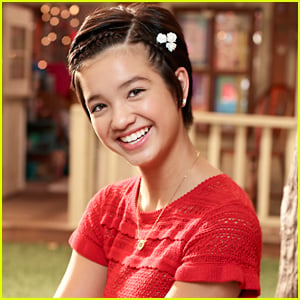 Peyton Elizabeth Lee is opening up about what it's really like to see yourself on television.
In a new interview, the 14-year-old Andi Mack star called it "overwhelming".
"It's a feeling that's like nothing else," Peyton continues. "You know, like when you see yourself on TV and you remember that day filming, so not only is this like this moment in the show, but it was also a day in your real life."
She adds, "It's funny to see any of the episodes of Andi Mack because they're like —you know when you look back on pictures of yourself when you were little and you remember certain days of your life or hanging out with certain friends? It's just like that, except it's in this whole other world, which is really interesting."
Peyton also recalled how the first day of filming was on the series, which airs Fridays on Disney Channel.
"I remember I was a little nervous because when you go into a new setting with people you don't know, it makes you a little nervous, but I was also super-excited," she says. "It was finally my dream coming true, and I couldn't wait. But every day since then, people don't believe me, but I'm just as excited as I was the first day."
Like Just Jared Jr. on FB