Thu, 20 December 2018 at 12:25 pm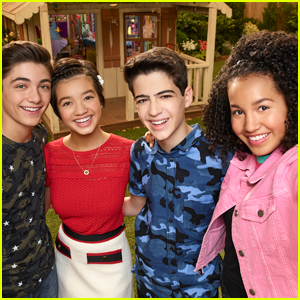 Peyton Elizabeth Lee is going to make you cry with her dedication post to Andi Mack.
Sharing a fun video of the cast and crew dancing around on set, the 14-year-old star opened up about how much the show has changed her for the better.
"I could spend the rest of my life reminiscing about the last three years. the dreams we made realities. the late nights laughing. it has been absolutely magical. that is the only word that truly embodies my experience with andi mack. magic. so whimsical and surreal," she started out in an Instagram video.
Peyton continues, "To my andi mack soulmates, thank you for making me believe in magic. you were my fairytale. cheers my family, for the aching in my heart is due to the love we have found in one another. the life we have created is one that will last a lifetime in my soul. every word. every smile. every tear. engraved into my mind. for eternity. i have found something here that in my life so far i didn't know to be. true love."
"Like in the movies. like in the storybooks. like in our minds. but i found it in salt lake city. i found it in lilan. in asher. in sofia. in josh. in trent. in lauren. in my crew. in andi mack the show. in andi mack the girl."
"So how does one go about thanking people for giving her a reason to wake up in the morning? for igniting a fire in her soul. this, i have no answers for. all i know is that three years ago i was just a girl. 11 years old. 4 feet and 9 inches tall. a dream as big as the galaxy. and today. 14 years old. 5 feet and 5 inches tall. and that massive dream has become a reality."
Peyton adds, "A truth that i hold in my heart with each passing day. with every moment. with every breath. may our memories here be as vivid in our minds in 20 years as they are today. may we all feel honest happiness once again. may we all find our happily ever after."
Like Just Jared Jr. on FB