Sun, 23 December 2018 at 1:03 pm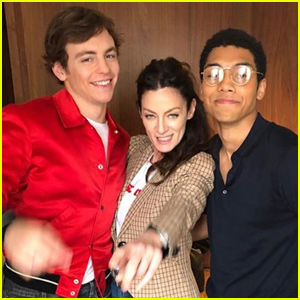 Chance Perdomo is giving some special shout outs to the cast of Chilling Adventures of Sabrina!
The 22-year-old actor, who plays Ambrose on the show, took to his Instagram for some sentimental posts following their wrap on season one.
"Lynchy-poo is one of the coolest Motherf#%+s I've met. Hands down. I admire the way he moves through the world – literally like water – like Bruce Lee's philosophy. I'm always smiling around this dude & always a little bit nervous so always split a little too early. There's a calm to him that fascinates & an unquenchable curiosity. He's #osho cool (pun intended) & it's a pleasure to call you a friend," Chance wrote of co-star Ross Lynch.
He added a post about Kiernan Shipka, writing, "Won't be able to carry @kiernanshipka around like a faux-fur scarf because this is a season wrap on @sabrinanetflix . I want it publicly known that I think you're the s**t & you ground yourself (unless being picked up) on a daily basis in way that I admire. Not once have I ever seen this gal lose her cool in any sense. She's truly an angel. Hail @kiernanshipka . #scarf #badwitch🧣 🧙‍♀️"
So cute! We're so glad this cast seems so tight!
Read all of Chance's sweet messages on his Instagram!
Like Just Jared Jr. on FB