Sun, 30 December 2018 at 8:13 pm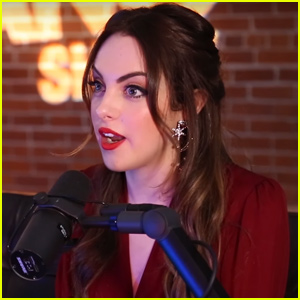 Elizabeth Gillies almost didn't make it to the "Thank U, Next" music video for a pretty painful reason!
The 25-year-old Dynasty actress just revealed that the day before the video shoot, she suffered from a spider bite on her face!
"I was like, this really, really hurts. I can't move my face! And the morning of the shoot I woke up and was like, 'I need to go to the dermatologist,'" Elizabeth explained, adding that her face looked "deformed."
At the time, Elizabeth didn't know what the massive bump was and couldn't find a dermatologist that would see her that morning. Thankfully, Ariana's mom Joan helped her get an appointment.
Finally, when she was able to see a doctor, he discovered the bump was a spider bite. Liz spared the details of the "gory and horrible" procedure but said the doctor advised her not to do the video.
"He said, 'You can't fly tonight. You shouldn't have flown yesterday. You shouldn't do the video shoot. If you want to try, you can't wear makeup.'…I immediately leave there, shove it, pack it with makeup and go to the video shoot," Elizabeth explained.
Liz added that the bite mark was able to be edited out of the video but she did end up with a staph infection!
Check out all that Liz had to say in the video below (starting at 26:25)…
Like Just Jared Jr. on FB