Thu, 03 January 2019 at 7:45 pm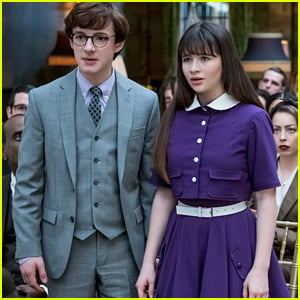 We can't believe that A Series of Unfortunate Events is over. Three seasons was just not enough for us at all.
The final season premiered on Netflix on New Year's Day and we just finished watching it this morning and we are still having feelings about it all.
There were A LOT OF THINGS that happened and A LOT OF THINGS were revealed about the true intentions of the VFD.
Click inside to see all that happened in the final episode now…
The final episode of the series takes place on The Island, a tropical paradise that had once been the safe haven for members of VFD, including Violet, Klaus and Sunny's own parents. Now though, it's become a strange and strict island society ruled over by a man named Ishmael.
Ish actually harbors a grudge against Count Olaf, and upon discovering his true identity (Olaf had been on the island in disguise, of course) shoots the Count in the stomach with a harpoon.
Fortunately for Olaf's enemies, the wound will prove fatal. Unfortunately, however, the shot went right through the helmet that contained spores of the Medusoid Mycelium, a poisonous mushroom that kills anyone who inhales it within one hour. Olaf was hiding it under his shirt as one last ultimate act of revenge.
The island residents sail away to search for a cure, while Violet, Klaus, and Sunnny comb the island for one, hoping that they might save themselves and Kit Snicket, who was infected, in labor, and floating in the sea on a raft made of books.
Close to death and unable to locate the cure, the Baudelaires are saved at the last minute by a snake, who brings them an apple that has been crossbred with horseradish, a cure for the Medusoid's poison.
After taking a bite of the apple themselves, the three sibs run back to Kit, but she refuses to eat the apple because it will hurt the baby. Too weak to bring Kit to shore themselves, the Baudelaires turn to their only hope in the form of their greatest enemy: Olaf.
Now infected himself, Olaf also refuses the cure.
"I've lost too much to go on," he tells them. "My parents, my true love, my henchfolk, an enormous fortune I never really earned."
However, as Kit was once his true love, he takes a bite to help her by gaining enough strength to bring her to shore. After giving her a kiss, Olaf dies from his harpoon wound.
Violet, Klaus and Sunny still try to save Kit, but it's too late. She only has time to hold her daughter close, name her Beatrice (also the name of their own mother), and hand her off to the Baudelaires before she dies.
The series flashes ahead a year to see the Baudelaires celebrating Beatrice's first birthday, and preparing to leave the island that has sheltered them.
Later on, a young Beatrice reconnects with her uncle, Lemony Snicket himself, to chat about the story of her life and the Baudelaires who raised her over some rootbeer floats.
TELL JJJ: What did you think of the series finale of A Series of Unfortunate Events?
Like Just Jared Jr. on FB