Fri, 11 January 2019 at 12:01 pm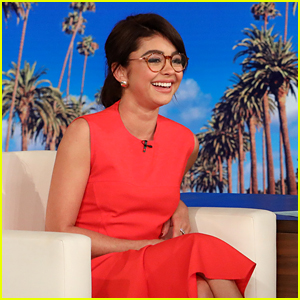 Sarah Hyland is getting candid about dealing with her health struggles and thoughts of suicide.
The XOXO star talked about her chronic health issues and numerous surgeries while stopping by The Ellen DeGeneres Show on Friday (January 11).
"I was very, very, very close," she told Ellen DeGeneres about considering death by suicide. "I would write letters in my head to loved ones — of why I did it, my reasoning behind it, how it's nobody's fault. And I didn't want to write it down on paper because I didn't want anyone to find it. … I didn't want anyone to know I was that close because if I knew, they would try to persuade me."
"At the time, I was 26, and after 26, 27 years of always being sick and being in chronic pain every single day and you don't know when you're going to have the next good day, it's really, really hard," Sarah continued.
Click inside to hear what else she had to say…
"It ended up being myself that got me out of that," she shared. "I had to do it on my own, I told myself I had to do it on my own."
"I'd been saying [to a friend], 'I think I need to go see a therapist again,'" she recalled. "And they were like, 'Why do you need to go see a therapist, you can just talk to me?' And when I said it out loud they were like, 'Oh you need to go see a therapist!' And that's when I was like, 'Okay, I don't think you're going to help me. I think I need to really do this on my own and really do even more digging and soul searching.'"
She added, "Just saying it out loud helped immensely because I kept it to myself for months and months at a time. And saying it out loud really helped me. Every person with their anxiety, or depression, or suicidal thoughts, every individual is different. So I wouldn't rely on everything I say, I'm just sharing my story. But I think talking to someone and saying it out loud really, really makes it sound almost ridiculous and puts everything in perspective."
If you or someone you know is considering suicide, contact the National Suicide Prevention Lifeline at 1-800-273-TALK (8255).

Sarah Hyland on Dealing with Chronic Health Issues and Suicidal Thoughts

Sarah Hyland's First Date with 'Bachelor' Star Was Days Before Her Big Surgery
FYI: Sarah is wearing an Adeam dress, Malone Souliers shoes, and Neil Lane jewelry.
Like Just Jared Jr. on FB