Tue, 15 January 2019 at 4:11 pm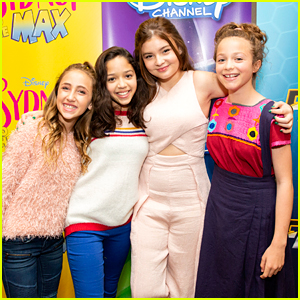 Ruth Righi, Ava Kolker, Sophie Pollono and Sofia Rosinsky all gather up for a cute group shot during a special screening for their new Disney Channel shows in Los Angeles this week.
The four actresses were joined by Ian Reed Kesler, Caroline Rhea, Jackson Dollinger, Christian J. Simon, Brandon Rossel, and Winslow Fegley as they surprised the local Los Angeles Boys and Girls Clubs with a first look at Sydney To The Max and Fast Layne.
Sydney To The Max, premiering NEXT Friday, January 25th, centers on Sydney Reynolds (Righi), her single dad Max (Kesler) and her hip and sassy grandmother Judy (Rhea), as they navigate the challenges of growing up.
She series features flashback scenes to the 1990s to a young Max (Dollinger) and his best friend Leo (Simon) parallel the funny predicaments invented by Sydney and her vivacious friend Olive (Kolker), showing that the ups and downs of being a teenager never really changes.
Fast Layne is set to premiere on Friday, February 15th.
The series centers on twelve-year-old over-achiever Layne (Pollono), who finds her orderly life thrown into a tailspin when she discovers a sophisticated talking car named "Vin" hidden in an abandoned shed.
With the help of her eccentric neighbor Zora (Rosinsky), Layne embarks on a high-speed adventure filled with secret agents and other surprises as the girls set out to unlock the mystery behind VIN's creation.
Like Just Jared Jr. on FB