Tue, 29 January 2019 at 11:23 am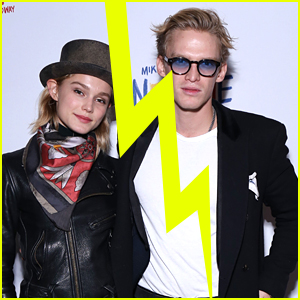 Clair Wuestenberg isn't holding anything back about her recent breakup with Cody Simpson.
On her Instagram Stories, the model revealed that she was the victim of emotional abuse from Cody throughout their relationship.
She started her story with a poem, calling out her ex for being a "narcissistic conman", before revealing that he broke up with her in a horrible way, too.
"The more I've been talking to people, the more I can step back and see myself for who I am rather than identifying with the relationship I've been in," she said. "I guess I should address the situation so people know what I'm talking about. My boyfriend broke up with me, and in a really, really sh***y way. I'd like to tell everybody about it, but I'm sure it would be not so good for his career, so I'll keep it quiet."
Clair continued, "What I do want to talk about is emotional abuse and how when you are abused emotionally, and you're torn from one way to the other, and you feel that you need to express yourself in some way, do what you need to do. Write poetry and don't feel like you should take it down. Speak out and don't feel bad about it. Talk to other people that can relate because, you know what? You need to build yourself back up. You need to build your life back up. You need to build your friend groups back up, and you need to get out of the stanky a**, gross relationship that you were in, and that's how you heal."
"Don't let somebody tell you that you're overly emotional about a situation," she added. "No, dude. You treated me like garbage. Go f*** yourself. Go f*** everything. I'm done."
This is actually heartbreaking.
Click inside to see Clair's poem about her break up with Cody…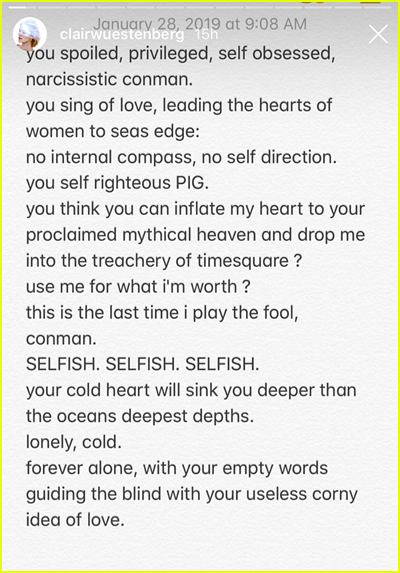 Like Just Jared Jr. on FB