Fri, 01 February 2019 at 12:41 pm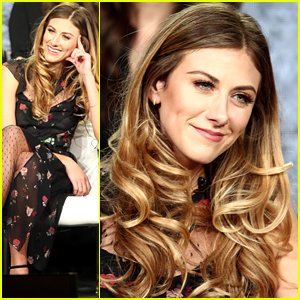 Perry Mattfeld dolls up in a pretty dress for the In The Dark panel during the 2019 Winter Television Critics Association Press Tour held at The Langham Huntington Hotel on Thursday (January 31) in Pasadena, Calif.
The 24-year-old actress was joined by co-stars Casey Deidrick, Keston John, Kathleen York, Morgan Krantz, Rich Sommer, Brooke Markham, Calle Walton and Thamela Mpumlwana at the panel, as well as EPs Corinne Kingsbury, and Jackie Cohn, and consultant Lorri Benson.
During the panel, Lorri and Corinne explained why both Perry and dog Levi were cast instead of an actual blind actress and guide dog for the series.
Lorri, who is blind and came to TCA with her new-ish guide dog Captain who led her through maze of chairs on stage set up for the cast and producers, a guide dog would mis-interpret multiple takes of a scene in a bad way.
"If I were to repeat what I just did, even three or four times, when I repeat it's because he made an error," she explained. "He would slowly break down because he did not know what he was doing wrong."
As for Perry, the EPs revealed that she was cast as Murphy because she was the best actor for the role "in a really exiting way".
The series did hire Calle, who is blind, in another role on the series as well as a blind writer.
If you remember, Perry actually played Franken-girl in Wizards of Waverly Place!
Like Just Jared Jr. on FB