Mon, 04 February 2019 at 2:58 pm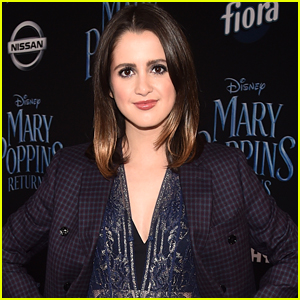 Laura Marano is just days away from her concert at The Roxy and JJJ's got even more details about her new upcoming, including that EP she's been teasing fans about.
The 23-year-old singer revealed that the EP will be a reflection of who she is today, the experiences that shaped her, and brand new songs that you've never heard before.
"There will be some familiar ones -like a recent kind of familiar – but I also have two surprises," Laura told JJJ. "One of the surprises is a song that I have had for a while now, and I am so ridiculously excited to finally release it."
She adds that her most recent single, "Let Me Cry", is a song that she's "incredibly proud of."
"Everything about it has been such a journey, and I am beyond touched by the reaction it is getting. From the song itself to the video, I was nervous to show a more vulnerable side to myself, but now I'm so happy that it's out. Seeing people connect with it more than any of my other songs has been so special."
Talking to Laura more, we found out that her songs will be telling a meaningful story, and won't just be one-off songs.
"I have always loved storytelling. It's why I do what I do, both with acting and music. Music has always had a special place in my heart because of the fact that I get to write my own story," she says. "Sometimes, in the writing process, you get lost in trying to tell a story you think people want to hear, instead of just writing from your own experience."
"I have done that quite a lot in the past, but through a variety of difference experiences, I started realizing I actually had things I wanted to say. Real things. Honest things. The craziest part is how much more relatable my music feels, even though I created it from my experiences," Laura continued. "That's what I really want to continue focusing on with my music, being as honest as possible. At the end of the day, I just want to keep showing anyone who listens to my music that vulnerability shouldn't be scary, it should be empowering."
Laura adds that on top of the story, you'll also see a theme amongst them: "These new songs have basically been my emotional outlet for the past few years. They represent the ongoing dichotomy that is present in my life, and I think in so many other people's lives: good experiences vs bad experiences, light vs dark, happiness vs sadness."
"With these songs, I'm trying to explain that everything you experience -both the good and the bad- is necessary. Pain, though hard to deal with, should be embraced as much as healing is, because you can't have one without the other."
Get your tickets to her show on February 15th NOW at TheRoxy.com!
Like Just Jared Jr. on FB