Thu, 07 February 2019 at 12:26 pm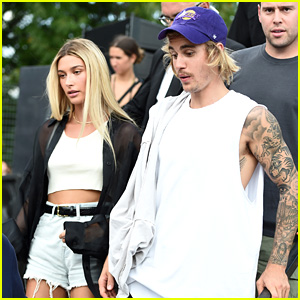 Justin and Hailey Bieber are being honest about their relationship.
The 24-year-old "What Do You Mean?" singer spoke of his Xanax addiction and issues with sex in a new interview with his 22-year-old model wife in Vogue's March 2018 issue, which is out now.
PHOTOS: Check out the latest pics of Justin Bieber
"I found myself doing things that I was so ashamed of, being super promiscuous and stuff, and I think I used Xanax because I was so ashamed. My mom always said to treat women with respect. For me, that was always in my head while I was doing it, so I could never enjoy it," Justin revealed.
"Drugs put a screen between me and what I was doing. It got pretty dark. I think there were times when my security was coming in late at night to check my pulse and see if I was still breathing."
Justin later realized he had a "legitimate problem with sex" and became celibate for more than a year when he reconnected with Hailey back in June of 2018. The lack of intimacy, he also admitted, was one of the reasons why they married so quickly.
"I think sex can cause a lot of pain. Sometimes people have sex because they don't feel good enough … because they lack self-worth. Women do that, and guys do that. I wanted to rededicate myself to God in that way because I really felt it was better for the condition of my soul. And I believe that God blessed me with Hailey as a result. There are perks. You get rewarded for good behavior."
Hailey supported her husband's decision: "I just wanted him to be happy and be good and be safe and feel joy. But I'm really proud of him. To do it without a program, and to stick with it without a sober coach or AA or classes — I think it's extraordinary. He is, in ways, a walking miracle."
For more from Justin and Hailey, head to Vogue.com.
Like Just Jared Jr. on FB