Fri, 15 February 2019 at 4:30 pm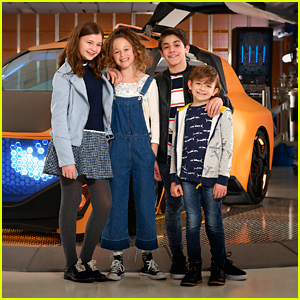 Fast Layne is making its premiere TONIGHT on Disney Channel, just after the Kim Possible premiere!
The series centers on 12-year-old Layne Reed, who has her overly-organized life scheduled down to the minute, including homework, music lessons and a ton of extracurricular activities. She's even found time to run for president of her middle school. Her life is turned upside down when, along with her free-spirited neighbor Zora, she discovers a tech-enhanced talking car named "VIN" hidden beneath an abandoned shed in her backyard.
A mischievous VIN convinces the girls to release him from his confinement, and with a shout of his favorite catchphrase—"Cue tire squeal!"—takes them on an exciting joyride around the neighborhood. However, they soon realize that VIN is being pursued by a pair of mysterious villains who are determined to capture him. Layne decides to help her new friend, but first, she must figure out why he was created—and who built him.
Luckily, Layne can turn to her classmate Cody, a smart and charming boy who works in his Abuelo's garage and has a talent for fixing cars, even complicated ones like VIN. She also navigates prodding questions from her younger cousin Mel, a nosy survivalist-in-training who is determined to uncover her secret. In the meantime, as she joins together with Zora, Cody and VIN to outsmart the bad guys, Layne faces her fears and learns important lessons about friendship, teamwork and standing up for what you believe.
Tune into the premiere @ 9:30PM ET/PT on Disney Channel!
Click inside to meet the full cast of Fast Layne!
Like Just Jared Jr. on FB