Sun, 17 February 2019 at 3:32 pm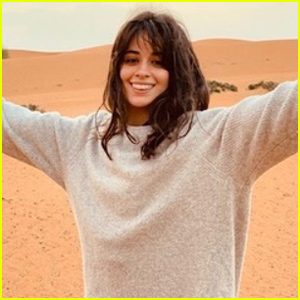 Camila Cabello just had the most incredible trip to Dubai!
The 21-year-old singer took to her Instagram to share some heartfelt thoughts about her trip, where she got to visit some stunning mosques and sleep under the stars in the desert.
"I love the feeling of being humbled by traveling to another place and experiencing a completely different culture, it makes you realize how small your world is in comparison to how big the world actually is; how you're only living one version in a million of the human experience. But at the same time travel makes you realize we're not really all that different," Camila wrote.
She continued, "i wore a hijab to be respectful when visiting this mosque and at the store this really sweet girl helped me put it on. We didn't speak the same language, but she was smiling as she helped me, and it felt like she was a close friend. I can't really describe it, but experiences like this give me such a special feeling of being really close to and really loving people 💕"
Camila later added, "never in my life did I think I would see a place like this, I urge anyone to save up to travel, and not like a beach/ resort type thing, but to a place that couldn't be more different than what you know – it changes your life and mind in every way possible and is one of (and arguably the most) the greatest, most humbling adventures of living. getting to see places like this just makes me desperate to see more."
Click inside to read all that Camila had to say…

Like Just Jared Jr. on FB