Mon, 18 February 2019 at 3:30 pm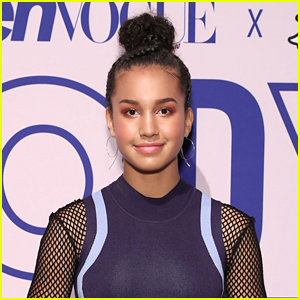 Sofia Wylie is opening up about her new role in the High School Musical series for Disney+!
The 15-year-old actress and dancer was recently announced as part of the cast as Gina, and it's nothing short of a dream role for her.
"Deep down, I've always known this was what I wanted to do, but I never actually thought that this could happen," Sofia told EW. "I mean, it's just a surreal thought that I would be on High School Musical: The Musical: The Series… that doesn't seem real to me."
"My sister and I were the biggest High School Musical fans, and still are, so I begged my mom to let me go and do the contest, and somehow I won and got tickets for my whole family. We got to fly out to LA and meet all of the stars," she continued. "I don't think [my sister and I] spoke a word the whole time because we were in absolute shock. I would still be in shock if I met those people today! You know how everyone's doing those '10-year challenges?' This is mine. Like, that was practically 10 years ago and it's come full circle and I couldn't be more thankful for all of these opportunities."
Sofia also dished about being the youngest one in the cast.
"Being the youngest of the cast I was a little worried that I was going to not fit in, but everybody was so accepting and so nice… No matter how many experiences you've had or opportunities or jobs that you've booked, to always be humble is the number one priority, and my parent have always instilled that quality within me and my sister. Also seeing it lived out in all of my cast-mates' lives …I know I'm going to learn so much from them too because they just have so many years of work and dedication that they've put into this, and I can't wait to hopefully grow up to be like them," she said.
Like Just Jared Jr. on FB