Tue, 19 February 2019 at 7:42 pm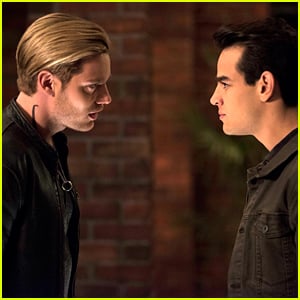 Simon and Jace will both be going through some things when Shadowhunters returns – especially following Clary's "death".
Alberto Rosende and Dominic Sherwood both spoke to TVGuide about what's ahead for their characters when the show returns next week.
For Simon, everything is going wrong for him.
"Simon went through the Shadow World but he always went through it with Clary, and after having lost the two other pillars of his life, he knew that if he had Clary, he still had something to anchor on to, something to wrap around," Alberto shared.
He adds, "Now with Clary gone, we're definitely going to see Simon in like the lowest place that we've ever seen him. In a place that I was scared for him."
"It's really rock bottom. He has to either learn to stand up and build himself back up again or fall in the process. It's very dark and very hard for him."
For Jace, he's dealing with the loss of Clary, plus how he contributed to it.
"He's turned a lot of that guilt in on himself, not just from these things that have happened but also going back through Imogen, trying to kill Alec, then going even farther back like the sword and dying," Dom says. "Everything that's happened to him, he's now turning in on himself."
Shadowhunters returns on Monday on Freeform.
Like Just Jared Jr. on FB