Wed, 20 February 2019 at 1:13 pm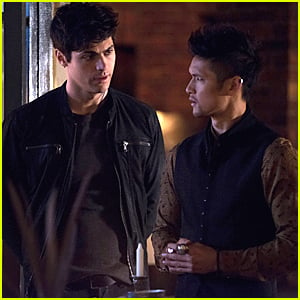 We hate to even think about Magnus and Alec having big troubles on the final season of Shadowhunters, but it looks like that's happening…
Matthew Daddario and Harry Shum, Jr. both opened up about the duo's relationship and how Magnus losing his magic is a huge deal for the couple, even if Alec doesn't understand.
"I think Alec struggles with understanding the gravity of losing that magic," Matthew shared with TV Guide. "I think that Alec sometimes has a little trouble seeing how the magic that warlocks possess is not just something that's like a bonus to being a human; it's a part of them. It's a part of their identity. It sits within them."
He continues, "I think that Alec has a little trouble sort of understanding why Magnus is so upset. I think that Magnus is obviously completely devastated and doesn't really know what to do, and he tries to put on a brave face, and Alec obviously tries to be supportive during this time, but I think it's going to lead to more conflict than any other kind of positive thing in their relationship."
"It certainly is going to lead to Alec making some poor decision in his efforts to help Magnus."
Harry adds, "I feel like losing power is a big deal for Magnus, so he's in this bubble of like, that's his identity being taken away. So being with anybody, even with Alec, is going to be hard because who else will understand that, other than them just being a support system?"
Shadowhunters returns on Monday, February 25th on Freeform.
READ MORE:
Katherine McNamara Dishes Just How Changed Clary Will Be When 'Shadowhunters' Returns
Jace & Simon Aren't Doing So Well In 'Shadowhunters' 3B
Like Just Jared Jr. on FB