Fri, 22 February 2019 at 11:50 am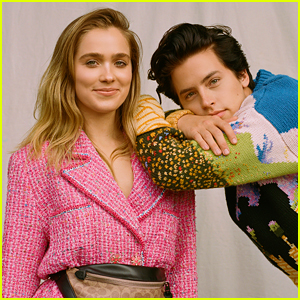 Cole Sprouse leans on Haley Lu Richardson in their new cover shoot for Wonderland Magazine's Spring edition, available on March 1!
Here's what the Five Feet Apart co-stars had to say to the outlet:
Cole on his series Riverdale: "Every week you're going, 'Holy s–t, what the hell is going on?' … It applies very well to the short attention span economy that we've built through social media, and I feel like it hits the nail on the head."
"I think there's this cynicism, or perhaps this pretentiousness within all of us that looks at teen dramas with a schlocky nature. And due to the fact that Riverdale sort of, in a self-aware capacity, also does that, while maintaining a level of quality with cinematography and with some other technical elements, I feel like it hit the nail on the head."
Cole on cystic fibrosis and Five Feet Apart: "A lot of the emotional weight of the movie, at least acting-wise, came from recognizing the logical gravity of cystic fibrosis. It is an incredible heavy, heavy illness, and it affects young people. It affects people who are going through, for the first time, feelings of lust and love and experimentation, and growth and coming into oneself and the solidifying of identity whilst simultaneously the encroaching mortality that is so frightening that terrifies all of us."
"I hope that the patients who watch this movie try to recognize that we have, within our finite set of rules, done the absolute best we could to represent exactly what it's like."
Haley on being an actor: "You have to be vulnerable, and feel comfortable being vulnerable, no matter what it is – whether you feel like you're going to be eaten with a man with 27 personalities, or stepping into the shoes of someone who has an extreme life-threatening disease. It makes you connect you to yourself and your emotions in a way that nothing else really forces from you in life. So I do enjoy it, in a weird way, it's therapeutic, it's cathartic, it makes me more empathetic as a person, and it's fun sometimes even."
For more from Cole and Haley, visit WonderlandMagazine.com.
Like Just Jared Jr. on FB