Fri, 22 February 2019 at 1:29 pm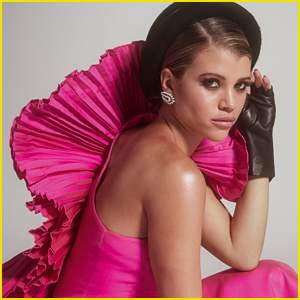 Sofia Richie is pretty in pink in her new cover shoot for Tatler magazine's April 2019 edition, hitting newsstands and digital download on February 28!
Here's what the model had to say to the outlet:
On social media and her relationship with Scott Disick: "I think a lot of people think they have to prove their relationships through social media, and I'm just happy being private about my relationship. It's not like I won't post pictures about it, but I like having my little private life."
On not being a party girl: "I'm not a party girl, and I really don't like the paparazzi." She added that she prefers hosting couples' games nights for her friends, including "My friend Tina and her boyfriend, my friend Gigi… No, not that Gigi. No one you would know." They eat take-out pizza and play Taboo or a game called Spoons. "Clearly we have a lot of time on our hands."
On her and Scott's low-key date nights: "Whatever we do, whether it's going to the cinema or dinner, we'll always just end up going home and watching a movie after.'
On her father Lionel Richie: "When I say my dad was strict, he came from a Southern family, and he still very much believes in the morals his parents in­stilled in him. I wasn't one of those privileged, spoiled children. We had our blessings, but I was told if I wanted something, I had to do it for myself. I feel like my parents got training on my first two siblings, so I got the tightened leash."
For more from Sofia, visit Tatler.com.
Like Just Jared Jr. on FB