Sat, 23 February 2019 at 1:47 pm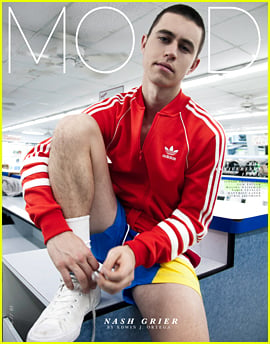 Nash Grier is showing off his newly shaved head in a photo shoot for Mood magazine, and it's possibly his hottest shoot to date!
The 21-year-old social media star stripped down and showed off his hot body throughout the shoot, which was done in a laundromat. Here's what he shared with the mag:
On cutting his hair and donating it to charity: "It was always the idea… If you're growing your hair out the least you can do is donate it after."
On how long it took to grow: "No haircuts for well over 2 years. I knew from the start I was gonna go all in on growing it out, at times it sucked but you just gotta stay committed through those awkward stages. Wear a bunch of hats."
On being a vegan and challenging fans to give up meat and dairy once a week: "I like to challenge people/myself and originally it kinda started out as a challenge. Three years in and I couldn't change it if I wanted to. At the end of the day though it is a diet and I can't recommend any one diet for everyone because we're not all wired the same, but I will say this – any and everything you consume has an impact (usually much bigger than you think). Try your absolute best to offset your footprint while you're here. Educate yourself about it. If you're not at least trying then what are you really doing."
For more from Nash, visit MoodMagazine.co!
Like Just Jared Jr. on FB