Sun, 24 February 2019 at 2:56 pm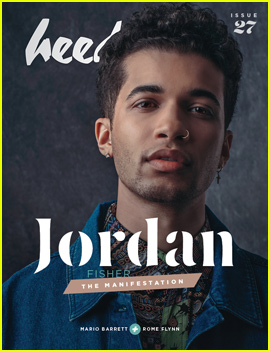 Jordan Fisher looks so handsome on the cover of Heed Magazine, available now.
The 24-year-old actor opened up about working on Rent Live and what to expect from his new music. Check it:
On his upcoming music: "I am now at a place where I am making music that I am so thrilled to make…I'm using my influences in my life musically, culturally, and socially to create work that will last for a really long time."
On the unique experience doing live musicals on TV: "Doing these 'live' productions are very niche. This is a full course meal for a performer, artist, and a creative. You get to rehearse a show like you would a Broadway show. You then, pick it apart and comb over the shots as you would for a film, and then block it like you would for a live television show. So you really get to touch on everything."
On working with the Rent Live cast: "I've never gone into a show before where I've known as many people in the cast as I do in this production. I have friends in the cast who I've known for years, but have never worked with."
Jordan's Heed article was written by Randy C. Bonds. The shoot was style directed by Tasha Henderson, grooming by Khamilia Smith and set design by Dennis Robinson with assistance from Tiffany Smith. PR/Communications by Mike Sanford, social media production by Gianna Dorsey and videography by Brenda Palmer and Jared Templeton.
For more from Jordan, visit HeedMag.com.
Like Just Jared Jr. on FB