Wed, 27 February 2019 at 5:45 pm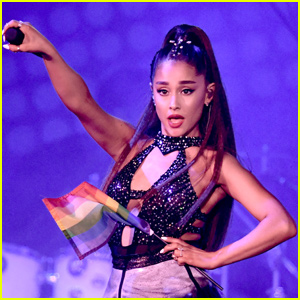 Ariana Grande is reacting to fans who were upset when she was announced as the headliner for this year's Manchester Pride Festival.
The 24-year-old songstress took to Twitter to respond to fans who called her out for being a straight woman leading a lineup at an LGBTQ festival and for causing ticket prices to skyrocketed.
After explaining she didn't have anything to do with ticket pricing, Ariana opened up her relationship with her LGBQT fans and Manchester.
"the lgbtq community has been so special to me and supportive throughout my entire career. the relationships i have with my lgbtq fans, friends, and family make me so so happy," Ariana wrote.
She added, "and also i wanna visit a city that means so much to me. lgbtq representation is incredibly important, and i'm always proud to share the stage with lgbtq artists… i'm not claiming to be the hero of the community or the face of the lgbtq rights movement — i just wanna put on a show that makes my lgbtq fans feel special and celebrated and supported."
Check out all that Ariana had to say below…
Like Just Jared Jr. on FB