Wed, 27 February 2019 at 1:11 pm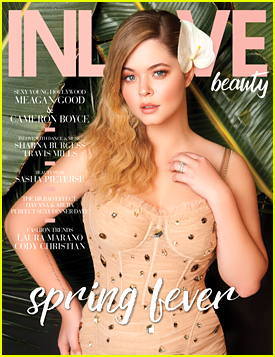 Sasha Pieterse is simply stunning on the beauty cover of InLove magazine's Spring 2019 issue.
The 23-year-old actress opened up about bringing Alison DiLaurentis back to the small screen in The Perfectionists, a character she once thought would be hated by the fans.
Speaking about how bullying was one of the biggest things she's been able to speak on since Pretty Little Liars' impact, Sasha revealed that when she was "cast as Alison, I was nervous that viewers would hate me, and Alison, due to how terrible of a person she was, but I was pleasantly surprised."
"Instead, it gave me the chance to speak out about bullying and the negative ripple effect it has on our world," she added. "Everyone is or has been, bullied by someone in their life, and the easiest way to process it is to figure out why it's happening; most of the time it comes down to insecurity, trauma, and projection. Bullies are usually very insecure and troubled. Once you understand that you're not the problem, you just happen to be a punching bag at that moment, it becomes easier to deal with."
Sasha also opened up about returning as Alison in The Perfectionists.
"PLL: The Perfectionists has all of the best parts of PLL that we're obsessed with and an exciting new story with some beautiful and twisted new characters to love. Ali has had a tough go at life, and it's not getting any easier."
Sasha continues, "The dust has settled in Rosewood, and she's been left picking up the pieces and trying to put herself back together as an adult. Having a normal life isn't exactly her specialty, and she's having a hard time navigating her family life. Beacon Heights is giving her a chance to prove to herself, and to Emily and her kids, that she can be a better, well-rounded person. But, things don't always go as planned."
See part of her photos below and read more at InLoveMag.com!
Like Just Jared Jr. on FB