Thu, 28 February 2019 at 12:37 pm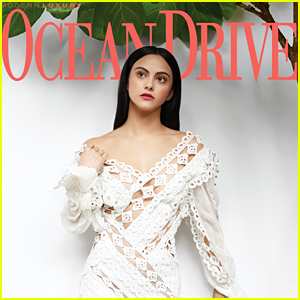 Camila Mendes stuns on the cover of Ocean Drive's new March 2019 issue in a cut-out dress.
The 24-year-old Riverdale actress opened up in the glossy about her rise to fame, which all started by playing a cranberry in a school production in Florida.
"I was a cranberry and I had my own solo song," Camila recalled about The Turkeys Go On Strike play. "Actually…no. I had a duet. It was a duet. I'm getting carried away. We sang a song about being the side dish and never the main course."
She adds that playing the fruit ignited her passion for performing: "I was really committed to the choice and to the emotion, and to being a really sad cranberry. The audience was laughing, and I started to get a kick out of it, realizing, 'People enjoy this.'"
However, it all could've went away during her college days where she chose partying over her art.
"My teacher yelled at me in front of everyone. He was like, 'It's such a shame to see you waste your talent. You need to stop making you more important than your work. Make your work more important than you,'" Camila says. "It was a slap in the face."
"I was like, 'Wait a second. I'm throwing away my freshman year. I'm ignoring what I'm really here to do. I'm over here partying, and that's not what I want to be. That's not who I want to become. I want to be an actress."
Read more from Camila's feature at OceanDrive.com.
Like Just Jared Jr. on FB