Sun, 03 March 2019 at 2:33 pm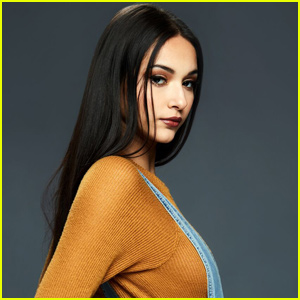 Karina Rae is about to "go off" with 10 Fun Facts!
The 19-year-old singer/songwriter, who just dropped her new single "Go Off," is spilling some deets about herself that her fans may not know!
Here's what Karina had to share:
1. I have 5 tattoos (2 on my arm, 1 on my shoulder, and 2 on my hand).
2. I am a crazy cat lady, with two cats back in Boston that I love dearly.
3. My biggest musical influences are Beyoncé and The 1975, both of which I've seen live twice.
4. I eat, sleep and breath in heels or my white Filas.
5. My celebrity crush is Harry Styles.
Check out Karina's song below and then click inside to read the rest of her 10 Fun Facts…
Click inside to read the rest of Karina's 10 Fun Facts…

6. I get bored with my hair easily and will change up the color or style very often.
7. Another way I express myself aside from music is through my fashion!
8. I always wear the same 3 rings; a flower from my mom, a teardrop I got myself and an emerald from Colombia.
9. My dream performance is Coachella.
10. My go-to hairstyle is a bun with two loose strands.
Like Just Jared Jr. on FB