Fri, 15 March 2019 at 3:40 pm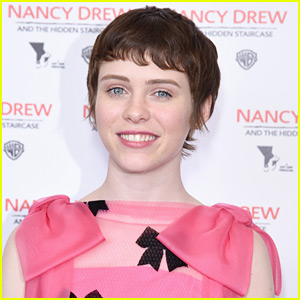 Sophia Lillis' new movie Nancy Drew and the Hidden Staircase is now in theaters and hopefully it's a big success as she already has some cool ideas for a sequel!
The 17-year-old actress has been reading the "Nancy Drew" books and already has a favorite story that she'd like to turn into a film!
Find out what Sophia told us in our exclusive JJJ interview:
Just Jared Jr: Nancy Drew is such an iconic character. Were you nervous about taking the role because of that? Was there any kind of pressure for you?
Sophia Lillis: Yes! It was a lot of pressure! She is such an iconic character. Even though I didn't read too many of the books when I was younger, I certainly knew who she was. And everyone on the crew were huge fans and kept coming up to me saying how important she was to them-so, yeah, lots of pressure.
JJJ: The Hidden Staircase is actually the second book of the novel series. Did you know about the series before taking the role? What changed from the book?
SL: The character in the book is much less reliant on her family and friends. In the book her Dad is barely even there but the movie really focuses on her relationship with her Dad after the death of her Mother. In the book she really goes off on her own to solve the mystery but in the movie she definitely needs the help of her friends.
JJJ: What kind of bonding did you do with the cast before kicking off filming, if any?
SL: We had a week of rehearsals. Katt Shea (the director) is also an acting coach so we played a lot of acting games. We would do a scene like we were in a soap opera or sing it like a real opera. It was a lot of fun and helped us learn the lines at the same time.
Click inside to read the rest of our exclusive interview…
JJJ: In the previous movie version, everything is actually opposite than what this movie is. Do you like Nancy better this way?
SL: I think so. I mean the other movie had its own style but I think this version of Nancy is probably more relatable.
JJJ: What did you do to get into the mindset of Nancy?
SL: I talked to a lot of people on set who all LOVED Nancy Drew and they all talked about what about her was important to them. And that really helped me figure out her character. The skateboarding really helped too.
JJJ: Any urges to go off and solve decades long mysteries now?
SL: Not really. I have enough to do trying to find all the things I lose everyday. But i have to say I'm getting a little bit better at finding things.
JJJ: Are you hoping that there's another movie? Which book do you think would be the best for an adaption?
SL: I hope so! There are so many options and honestly I've only read the first 4 books. But "Mystery at Lilac Inn" is pretty wild and would be lots of fun.
JJJ: What is the strangest thing you've ever eaten?
SL: A chocolate covered grasshopper.
JJJ: What is your favorite movie quote?
SL: "April 25th, because it's not too hot, not too cold. All you need is a light jacket"
JJJ: What is the first thing you think of in the morning?
SL: Where's the snooze button.
JJJ: Last time you laughed very hard out loud?
SL: I can't remember but it was some stupid joke my brother told me.
Nancy Drew and the Hidden Staircase is in theaters now!
Like Just Jared Jr. on FB